Entrevista com público
Edit
=== Você utilizaria uma rede social para contratar um serviço de limpeza ? ===
Público-alvo: solteiros entre 18 a 40 anos.
Objetivo: intermediar a relação entre contratante e contratado para facilitar o processo de busca por um serviço de limpeza confiável.
Total de entrevistados: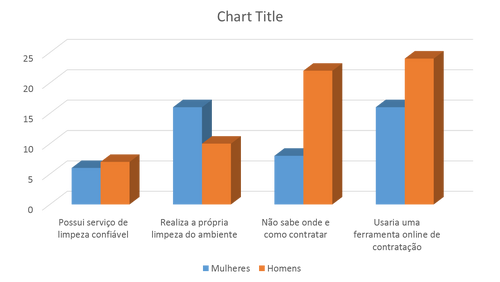 Conclusão: O maior problema na hora de contratar um serviço de limpeza é a desconfiança em trazer alguém para dentro de casa.
Como o projeto "Casa Limpa" pode solucionar esse problema?
A ferramenta online de pesquisa deve prezar pelo caráter e qualidade do serviço das pessoas com quem trabalha para se tornar uma rede exclusiva. Selecionar cautelosamente quem irá participar da plataforma, contendo no perfil de cada diarista fotos e avaliações de pessoas para quem já trabalhou, garantindo assim a segurança para ambas as partes.
Pretendemos tornar acessível e prático a contratação de um serviço de limpeza. Acreditamos que incentivando o setor e aumentando a concorrência será gerada maior qualidade de serviço.
Ad blocker interference detected!
Wikia is a free-to-use site that makes money from advertising. We have a modified experience for viewers using ad blockers

Wikia is not accessible if you've made further modifications. Remove the custom ad blocker rule(s) and the page will load as expected.