Oceano Azul
Edit
Oceano azul: Em poucas palavras, um negócio está no oceano azul se a concorrência é irrelevante; seu produto está numa nova categoria de mercado, por ex. Swatch.
Oceano vermelho: empresas que enfrentam muita competição, ex: supermercados.
Nossa negócio não teria concorrentes, este mercado não está sendo explorado atualmente, come excessão dos jornais. Mas este ainda apresenta pouca vantagens se comparado com o que temos para oferecer.
Análise da curva de valor
Edit
Identificar concorrentes
Identificar pontos cruciais para o negócio
Fazer um gráfico comparando cada ponto do seu negócio com aquele dos concorrentes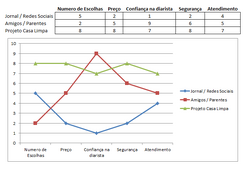 Ad blocker interference detected!
Wikia is a free-to-use site that makes money from advertising. We have a modified experience for viewers using ad blockers

Wikia is not accessible if you've made further modifications. Remove the custom ad blocker rule(s) and the page will load as expected.